For a game that was only 3 points to 2 on the scorecard at halftime,  it would have been considered foolish to hazard a guess as to who would come out triumphant from St Anne's Park in a thrilling game.
There was, however, on closer inspection, moments of exceptional play produced by the southsiders that was repeated in the second half with greater frequency, accuracy and true passion. This relentlessness brought Crumlin/Robert Emmets a well deserved win of 1-9 to 1-2 on Clontarfs home turf.
Crumlin Emmets' dominance in the midfield was impressive with Ryan Smith and Cian Elliott working brilliantly with their own half forwards to kick off the scoring and allowing Joe Mcgovern to use his height advantage to palm a point over the bar. Two more points followed with Ryan himself and the impressive Jamie Smith.
Although Clontarf managed to get some scoring done, Crumlin/Robert Emmets had a defence line that was decisive in shutting down any oncoming attacks led by the strong fullback Eoghan McNulty who was ably supported by corner backs Oisin Fitzgerald and the excellent Brandon Bradshaw. If their grit and determination didn't stop any threats, goalkeeper Liam McDonald showed super confidence in seeing off any stray attempts on goal.
Clontarf only managed to hit the scoresheet one more time.
It was the second half, however,  that really showed Crumlin/Robert Emmets workrate in full effect. Halfbacks Conor White, Darragh Fitzgerald and Jake McCabe deftly set up plays with their midfielders to allow the half forwards Ryan Gahan,  Kevin Barry and Jamie Smith to capitalise on the superb runs they were making.
It was inevitable more scores were coming . Both Darragh and Eoin Flynn bagging a point each , Jamie another two and Ryan Smith a goal and a further two points.
By the last 15 to 20 minutes Clontarf just couldn't beat the spirited Crumlin Emmets team and numerous substitutions were to no avail.
Only one substitution was needed by the victors , Odhran Niland coming on for the tireless Brendan McGee.
An impressive result for a team of young lads who only came together at U13 level and often times had to rely on support from the now current U13 teams over the past season.
Future is most certainly promising for Crumlin/Robert Emmets.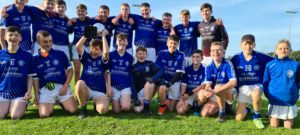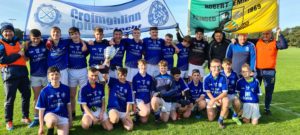 ---