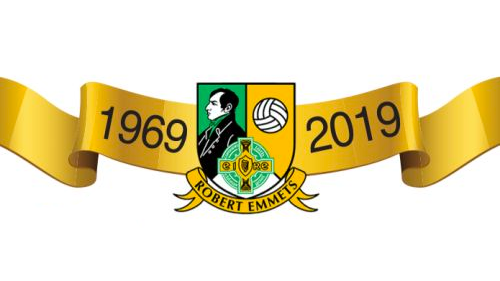 Focal ón Cathaoirleach
The group of men that gathered together in Perrystown in the summer of 1969 had a shared dream. They were
determined that the young people growing up in the area would experience the games that they themselves had
grown to love, growing up in different parts of Ireland.Large families populated the newly built houses.  There were now enough players on individual roads in the areas to enable street leagues to be formed on the 8 Acres. The club was named after a local Irish Patriot, Robert Emmet. In the last fifty years the club has now become a centre of Gaelic Games and a force for social involvement in the Perrystown/Greenhills Communities.                                                                                    
More and more young people from the community are joining the club, primarily from our local schools, St
Damian's and The Holy Spirit, Greenhills. We now have a wonderful, progressive, welcoming club. A place
for every child in the community to come and feel welcome, to make new friends, and to be part of a team.
There is a spirit of camaraderie and community in the club which is second to none.
In the coming decade we will continue to develop our playing facilities on the 8 acres which is without doubt
one of the finest Gaelic football pitches in Dublin. We look forward to watching every player in the club reach
their full potential.                                                                                                                                            
I want to thank everyone who has contributed to this club over the past half century. From the founding
members of 1969, the players, boys and girls, men and women that have worn the green and gold over the past
five decades.  We appreciate the support from the local schools, Perrystown Community Centre, South Dublin
County Council Staff, the Dublin County Board, our sponsors, so many of whom have taken out advertising in
this booklet and everyone else who has contributed to our club in any way.                                                           
We are grateful to all of the people who have been involved in the club over the last fifty years, huge work has gone into the preparation of this booklet which captures so much of the history of the club on and off the
pitch. So many people have gained from their involvement in the club during that time. Players, managers,
mentors, committee members and parents have had their lives enriched through their involvement in the club.
In particular, I want to pay tribute to the men and women of the club, past and present. Robert Emmets is
here because of all the people who worked so hard to keep the club going through what were often difficult
times in the club.
Go raibh mile maith agaibh go léir agus go n-éirí go geallibh leis an obair agus na gcluichí sa todhchaí.
Aodh O Conchubhair
Cathaoirleach 2019
CLG Roibéard Éiméid